SENIOR VISITING FELLOW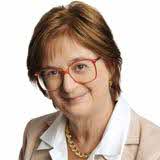 2013 - PRESENT
Jocelyne Bourgon is the Founding President of Public Governance International (PGI), President Emeritus of the Canada School of Public Service, Project Leader of the New Synthesis Initiative, and a Senior Visiting Fellow at the Civil Service College, Singapore.
Madame Bourgon had a distinguished career in the Canadian Public Service where she led the Public Service of Canada through some of its most important reforms in the 1990's. She served as Clerk of the Privy Council and Secretary to the Cabinet as well as Deputy Minister in various departments including Transport, Canadian International Development Agency, Consumer and Corporate Affairs, and the Canada School of Public Service . Madame Bourgon served as Canadian Ambassador to the Organisation of Economic Cooperation and Development (OECD) President of the UN Committee of Experts in Public Administration and President of the Commonwealth Association for Public Administration & Management (CAPAM).
Madame Bourgon has published extensively about public administration. She is the author of A New Synthesis of Public Administration: Serving in the 21st Century (2011) and The New Synthesis of Public Administration Fieldbook (2017), among others.